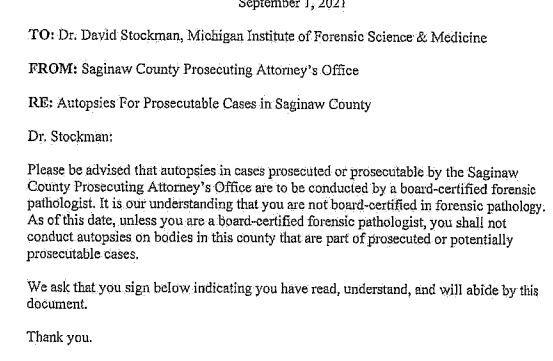 SAGINAW COUNTY, Mich. (WJRT) - New developments tonight on why a mid-Michigan county wants to end its relationship with a company that was handling its morgue services.
It was last week we told you a long-time medical examiner was fired by the company.
We are now learning the doctor who runs the firm was performing autopsies, even though he lacked the credentials Saginaw County required.
A former employee with the morgue services company alerted the Saginaw County prosecutor's office that something was not right when it came to the qualifications of Doctor David Stockman.
"It was a nightmare," says Marcus Atkins.
Atkins is talking about his one year stint with the Michigan Institute of Forensic Science and Medicine, a private company which handles morgue and death reporting services for six mid-Michigan counties, including Saginaw County.
"I went from sales guy, to removing dead, decomposed bodies and I'm wondering, what in the hell has happened here," says Atkins.
Earlier this month, the firm fired its medical examiner, Dr. Russell Bush.
The company is run by Dr. David Stockman, who had been performing autopsies on people who may have died by homicide.
"He has done autopsies on burn victims, shooting victims, clearly prosecutable cases," says Atkins.
Atkins informed the Saginaw County Prosecutor's office that Stockman had been performing those autopsies, which was in violation of the county's contract with the morgue services firm.
"The county contract stipulates you must be board certified forensic pathologist to do prosecutable cases," says Atkins.
The prosecutor's office verified Atkins claim finding out while Stockman can perform autopsies, he is not a board-certified forensic pathologist as required by the county contract.
The office sent him a letter, telling him to stop doing autopsies on bodies involved in prosecutable cases.
The lack of that qualification now has the prosecutor's office reviewing criminal cases where Stockman performed the autopsy and has notified the attorneys of the defendants of the issue.
We attempted to reach Dr. Stockman for comment, but could not reach him today.
The full county board is expected to vote next month to possibly end the contract with the morgue services company.