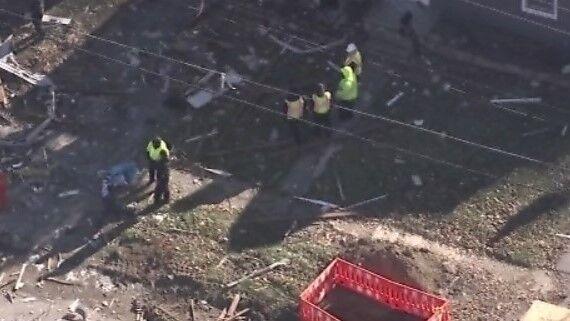 FLINT, Mich. (WJRT) - Some families finally returning home Wednesday for the first time after Monday night's home explosion on Hogarth Avenue on Flint's west side.
"I heard screams from the people inside the house that were in there," said Steven Eickholt, who lives across the street from where the home explosion happened. "There's nothing you can do; I was trying to save my family."
Amanda and Steven Eickholt are still processing it all
"I was sitting here and it was almost like it seemed like a power surge at first," said Amanda Eickholt. "Everything was just bright orange and then we saw sparks and the power went black and it was just boom. It was just crazy."
The blast was so big that it left cracks in the walls and pieces of the ceiling falling to the ground.
"The whole wall, you can see it-- it looks like a staircase," said Steven. "You can see how the house moved and came back. I don't know if there is structural damage because we haven't really been here to look."
While their home is in shambles, Amanda says, they have everything they need-- their family.
"I'm thankful that were alive, our kids are alive," said Amanda. "The house, the items -- it can all be replaced. I mean there is a family across the street, 2 families that are going to be suffering this holiday season."