FLINT, Mich. (WJRT) -  Ticked off and fed up neighbors are banding together to get something done about a vacant, blighted school building in their neighborhood.
McKinley Middle School is one of more than a dozen vacant properties owned by the Flint Community School district. In June, 2022, the school district announced McKinley was on the district's keep list.
But neighbors don't care if the school district keeps the building, sells it or tears it down. They just want to see progress, because years of neglect are taking a toll on the building and their level of tolerance.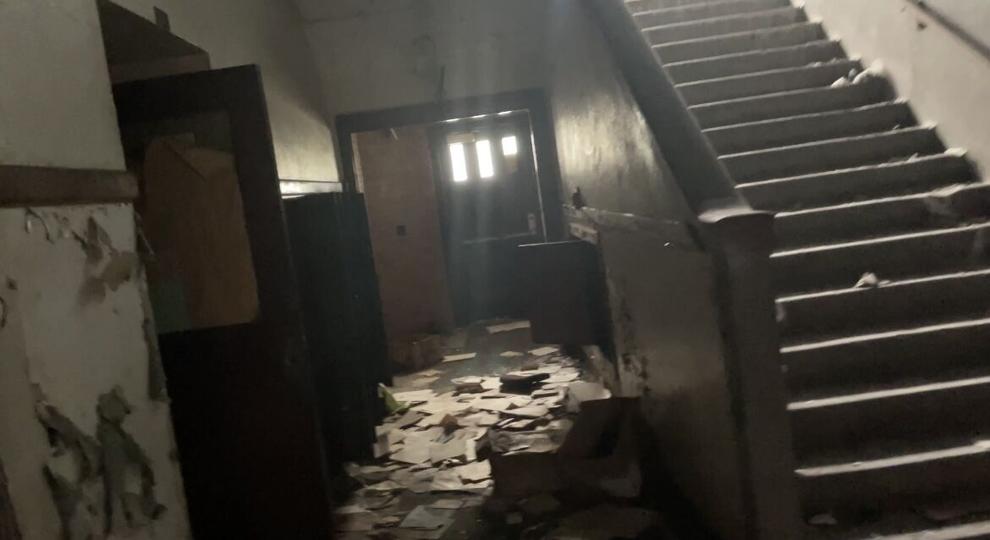 Janis Berryman has lived in the neighborhood for 78 years. She wakes up in disbelief the neighborhood she once loved is no longer lovable.
"I can't live like this," said the longtime Flint resident. "I cry. Never did I think it would be like this. It's a shame."
Berryman joined several other neighbors outside the former McKinley Middle School to share their frustration with the state of the building, which has been vacant for at least 10 years.  
"We see drug deals, homeless, winos, males urinating," Bob Gallagher said. "It's just an eyesore and it breeds crime. Our home values are decreasing because of it." 
The parking lot has become an illegal dump site, full of liquor bottles and trash. Inside, the building is a disaster with rooms trashed and destroyed by vandals or fire.
"We in neighborhood have to look at it," said Michelle Johnson. "Sell the school or tear it down. Why let it go like this?"
Flint schools Superintendent Kevelin Jones released the following statement about McKinley Middle School through Jeremy Witt with the Lambert public relations firm of Grand Rapids:
"At Flint Community Schools, our mission is to provide our scholars, families, teachers and staff with the resources and learning environments they need to learn, grow and play. We understand the community's frustration surrounding the destruction of vacant properties and are working to address these concerns.
"To best support the district's vision for the future and its financial well-being, Flint Community Schools and its Board of Education are in the process of selling its vacant properties. The sale of these vacant buildings is a key part of the district's strategic plan and will ultimately optimize our resources and help reduce our operating budget deficit.
"We continue to work with local law enforcement to stop the vandalism, loitering and destruction of these properties, and we ask that the community report any suspicious behavior that they witness.
"We look forward to having these properties improve our neighborhoods and provide the resources that empower our community, while directly helping current and future Flint Community Schools scholars and families."
Flint schools are planning a series of public forums to discuss the district's strategic plan and goals for the current school year. The first meeting is set for 4 p.m. Thursday at Accelerated Learning Academy at 1602 S. Averill Ave.
People who are unable to attend the forum in person can take part virtually on Zoom or share input on a Google Forms survey. Links to both can be found on the Flint Community Schools website ahead of the meeting.